The combination of the brands Delphi Delco and Vauxhall will probably not seem strange to the average car technician. You can say that it would be strange if a car mechanic never had to deal with a faulty Delphi Delco ECU. This reputation partly lies with the MT35E that we are going to talk about in this article, but to a large extent also with the Delphi Delco Multec. The combination of Delphi Delco and Vauxhall has therefore not been such a great success on several occasions.
Where the MT35E was used by Vauxhall in combination with the Z16XER/P and Z18XER engines, the Multec was used on the Z16SE engine. The list of error codes that the Multec ECU can cause is big, as can be read here. However, the story surrounding the Delphi Delco MT35E is a bit more complicated. The ECU is notorious for the various problems it can cause, which is why the MT35E is often wrongly suspected as the the part that failed. That is why in this article we will take a closer look at this Vauxhall ECU and also tell you what you can check before you suspect the ECU.
In which cars is the Delphi Delco MT35E being used?
Vauxhall Meriva A
Vauxhall Vectra C
Vauxhall Astra H
Vauxhall Zafira B
Potentially remanufacturable complaints for the Delphi Delco MT35E
As we have just explained, proper diagnosis is very important with the MT35E. There is a good chance that the problem is hidden elsewhere in the car and that the ECU is wrongly suspected. So even though we (just like with the Multec) have put together a clear list for which we have an remanufacture solution available, always check all other parts of the engine management system first! More about that later, first the list of common complaints and error codes that can be remanufactured:
P0201 / P0202 / P0203 / P0204 - One or more injectors are not controlled
P0300 / P0302 - Cylinder Overload
P1600 - Reprogram or Replace Electronic Control Unit (ECU)
One or more ignitions (coils) are not controlled / misfire complaints
Lambda sensor does not work
Engine does not start: Immobilizer is activated
Does not start when the engine is cold or warm: This is often accompanied by communication complaints and can also cause the above error code P1600
Car cuts out while driving / engine stalls
Vauxhall with misfire complaints: it's not always the ECU that is defective
Misfire complaints can have many different causes. In a previous article we wrote about how you can best deal with this. The ECU is a known cause of misfire complaints, but there are many other parts that can also be the cause of this problem. Therefore, always check the following points before suspecting the ECU:
EGR channels in the intake manifold: These often get clogged, which can cause misfire complaints
Plug and wiring ignition coils: This is a weak point on some Vauxhall models
Head gasket often fails and exhaust valves sometimes do not close properly on some types: therefore perform a compression test
Visually check the exhaust valves or do a cylinder leak test if the compression test is inconclusive
Camshafts can also wear out or even break (!) with the Z16XEP engine. This is also a point of attention for the above checks
Startup problems in combination with communication complaints: starter motor and/or battery?
Another known problem is that the car has starting problems, various communication complaints and error codes after the start attempt. After starting a few times and then clearing the error codes, the car often picks up again. If this does not work, tow the car, because that should ensure that the car should start again. If the complaint has been resolved, then the starter motor and/or battery could be defective. However, if these parts turn out to function properly, then the ECU is most likely defective.
In any case, the starter motor and battery are a weak link in the Vauxhalls that use the Z16XER/P and Z18XER engines. A worn starter motor can cause voltage peaks, causing the system to run aground, which can be amplified by a bad battery. There is a whole list of error codes that can come up from a bad starter motor or weak battery. It concerns the following error codes:
P0201 - Cylinder 1 Injector Circuit Malfunction
P0202 - Cylinder 2 Injector Circuit Malfunction
P0203 - Cylinder 3 Injector Circuit Malfunction
P0204 - Cylinder 4 Injector Circuit Malfunction
P0230 - Fuel Pump Primary Circuit Malfunction
P0650 - Malfunction Indicator Lamp (MIL) Control Circuit
P1550 - Electronic Throttle Control Engine Stop
P1600 - Reprogram or Replace Electronic Control Unit (ECU)
U2103 - Fewer Controllers On Bus Than Programmed
U2104 - CAN Bus Reset Counter Overrun
U2108 - CAN Bus Error ABS
U2139 - CAN-BUS CIM Range/Performance
It appears that the battery and/or starter motor can cause these problems due to 'voltage spikes' during cranking. One cause may be that the carbon brushes are worn out. This will give you voltage peaks on the system and the starter motor can demand too much current.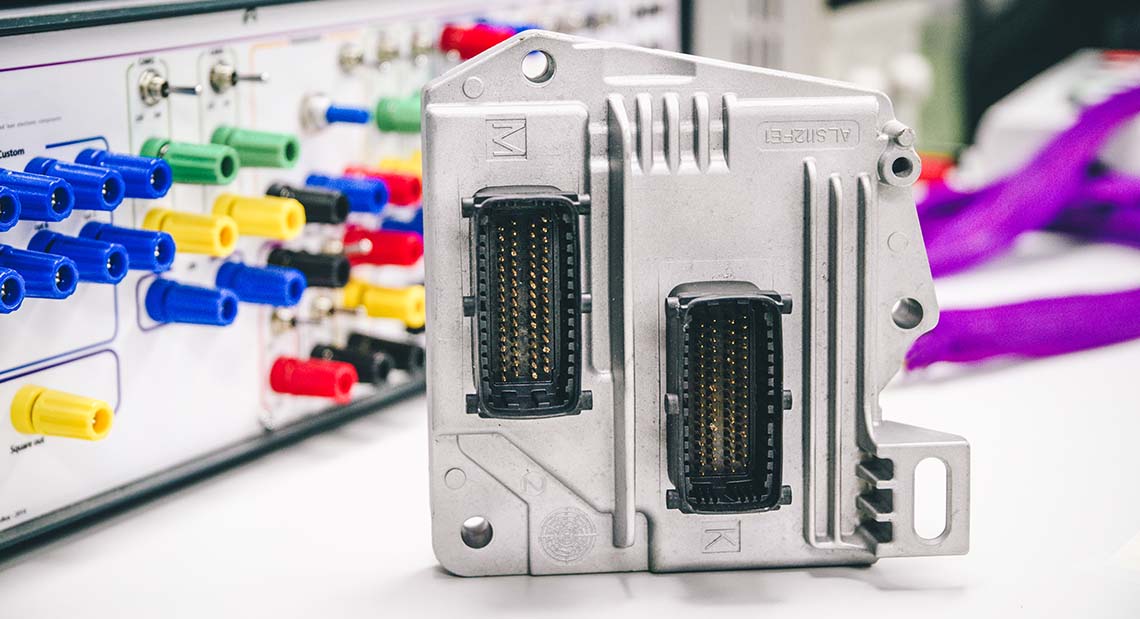 Car is not driving smoothly when driving away
The cause of this might be a faulty thermostat (continuously left open), as a result of which the engine does not reach operating temperature. Both the Vauxhall Astra H and Vauxhall Zafira B do not have an engine temperature gauge in the dashboard, so the driver of this car does not immediately notice this. Only when you read the car do you see the correct value.
Car stalls when accelerator pedal is fully depressed
This is a problem that we regularly see with Vauxhall engines. When reading a car with this malfunction, various error codes on the injectors and possibly also various CAN errors can be found. The solution to this appears in many cases to be the replacement of the ignition coil(s). Use new and original parts for this. Imitation parts can in turn cause strange malfunctions.
Error code P0340 Camshaft Sensor
Speaking of new and original parts… If you read error code P0340, it probably has to do with the fact that an aftermarket sensor has been used. Check this and replace it with an original sensor. There is a very good chance that this will make the error code P0340 disappear or can be cleared!
Error code P1120 / P1122 throttle position on Vauxhall Astra H or Vauxhall Zafira B
Fault code P1120 and P1122, strangely enough, do not refer to the throttle valve, but to errors in the accelerator pedal. A possible solution to this problem is that the Underhood Module (UEC) is making poor contact with the holder on which it is placed. There are several instructions online that explain how to solve this. For example, this method is clear and well defined.
P0100, P0135, P0141, P0443 (+P1116 & P1112)
For these error codes, check the 10A fuse number 26 under the hood. If you diagnose these error codes with the Vauxhall Meriva A, check the fuses F14, F15, F26, F27 and F31 under the dashboard. Often these fuses cause the mentioned error codes.
Have your Delphi Delco MT35E ECU remanufactured?
We hope that with this information we have been able to bring some order to the tangle of problems and error codes. If you would like to have the Delphi Delco MT35E remanufactured or if you have any questions, we are of course happy to help you. By clicking on the button below you can email us your question, but of course you can also reach us by phone on 01206 849920.