ECUs

Bosch PSG 5 (EDU from VP44)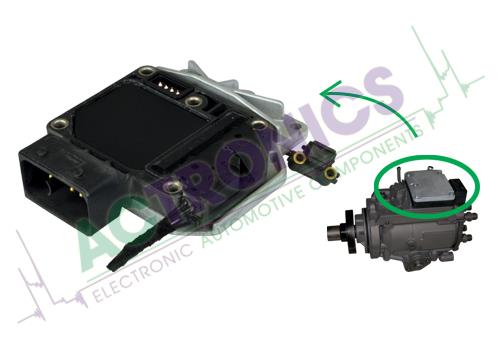 How we work
We remanufacture the part you send. Prices are exclusive of VAT and possible shipping costs. Offer only applies to garages and dealers and not to
individuals
.
Remanufacture a Bosch PSG 5 (EDU from VP44)
The Bosch PSG 5 (VP44) can be found in different model from different car manufacturers like: Audi, Ford and Vauxhall. What could the driver notice in a car with a defective ECU? A fault in the ECU will illuminate the engine warning light (Malfunction Indicator Light or MIL). There is a wide range of problems that can occur because of a faulty ECU. Think of a non-starting car or misfires in the engine.
Common faults and defects
Faults in the ECU can cause a wide variety of problems in a car. These faults will be seen when reading the fault codes of a car or measuring the live data. Faults can also be found when verifying the wiring, currents and grounds with the wiring diagram. Especially verifying the in- and output signals to and from the ECU is very important as these cause most of the faults. Defects are often created by vibrations in the car, they can cause components and bonds on the printed circuit board to break.
Common fault code in the Bosch PSG 5 (VP44):
01318 & 0526
1600 & 1690
P1220, P1335, P1630, P1631
P1564 & P1664
Resulting faults in other parts
A defective ECU can create faults in different car components as well. The control of the engine might be altered that could result in the car not starting or the engine not running normally. The control of the ECU on other parts can create fault codes as well, for example the ABS-unit or TCU.
Risks of the defective part
Risks are depending of the actual fault in the ECU. A faulty ECU can cut out the engine, make the car not start or cause a lack of power in the engine. In most cases the MIL (Engine management light) will illuminate.
Remanufacture of a Bosch PSG 5 (VP44)
ACtronics has a remanufacture solution for the Bosch PSG 5 (VP44). Before an ECU or other car part is send in for remanufacture it is important to properly diagnose the car, so our engineers will be able to find the fault and properly remanufacture your part
Remanufacture an ECU by ACtronics?
Would you like to remanufacture a Bosch PSG 5 (VP44) or other ECU? On our website you can easily and quickly create a remanufacture order form. ACtronics has a wide range of remanufacture procedures for ECUs like the Delphi Delco Multec HSFI-2.x en Magneti Marelli IAW 59F 59M-5AF-5AM.
Would you like to remanufacture a car part that is not listed on our website, then please contact our customer services to discuss the possibilities.