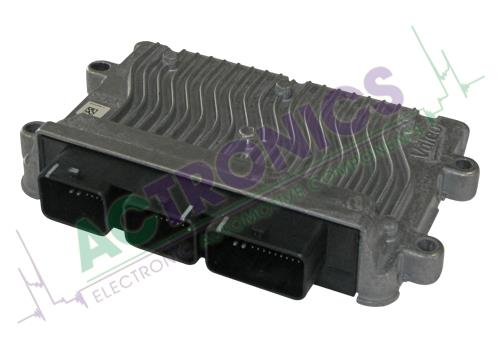 Common problems
Main relay signal
No injector(s) signal
Signal to ignition coils is missing
Is your complaint not listed? Please contact our customer service
How we work
We remanufacture the part you send. Prices are exclusive of VAT and possible shipping costs. Offer only applies to garages and dealers and not to
individuals
.
Remanufacture a Valeo J34P for a Citroën or Peugeot?
Would you like to remanufacture a Valeo J34P for a Citroën or Peugeot? ACtronics has a remanufacture procedure for models of both these car brands, like the C2, C3, 206, or 207. A fault in the ECU will illuminate the engine warning light (Malfunction Indicator Light or MIL). There is a wide range of problems that can occur because of a faulty ECU. Think of a non-starting car or misfires in the engine.
Possible defects and/or fault codes
Many complaints heard for Valeo the J34P have to do with the communication. It is therefore possible that the ECU will fail completely, without giving any specific fault codes. These faults can be seen in different components as well, as they are no longer able to communicate with the ECU. Other often seen faults in the Valeo J34P are:
Fault in the 5V circuit
No communication with the CAN-bus
Ground faults
Start prohibited by immobilizer
Risk and effects on other components in the car
Continuing to drive with a defective ECU might lead to other defects and damage of the engine. When the engine warning light illuminates, stop the car.
Remanufacture of a Valeo J34P
Before an ECU or other car part is send in for remanufacture it is important to properly diagnose the car, so our engineers will be able to find the fault and properly remanufacture your part. When we receive the car part we will start the remanufacture process by doing an entry test. Depending of the outcome of this test a remanufacture procedure will be done by one of our engineers. During the remanufacture procedure defective parts and other parts known to cause faults will be replaced. At the end of the process an end test will be done to make sure that the faults are no longer presents and the ECU operates normally.
Repair an ECU by ACtronics?
Would you like to remanufacture a Valeo J34P or other ECU? On our website you can easily and quickly create a remanufacture order form. ACtronics has a wide range of remanufacture procedures for ECUs like the Bosch EDC16 series or the Siemens SID series.
Would you like to remanufacture a car part that is not listed on our website, then please contact our customer services to discuss the possibilities.