Climate Control Module Repair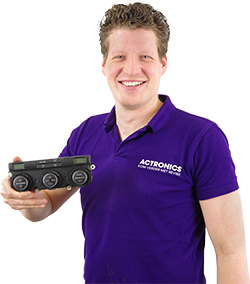 Question about an ACC?
Let me help you!
The ACC panel allows the driver to control the climate in the car. The control panel is equipped with a heater or air conditioning functions to regulate the climate control optimally. In many cases the display provides information about the temperature in the car and which climate functions can be used. ACTRONICS offers the possibility to have an ACC control panel reconditioned instead of repaired.
Common ACC panel problems
ACC panels consist of various components that are used frequently. Many panels are equipped with (turning) knobs that are sensitive to defects. Also, in many cases the dashboard consists of an information display that is no longer legible or does not work properly. But defective sensors, compressor controls and complete failure are also common causes.
Climate Control Module Repair
ACTRONICS has developed its own test stand to test ACC panels. The functions of the ACC panel can be tested for functionality and possible defects. In case of defects, when revising a panel we do not opt for a temporary solution (fixing / glueing) but for a durable solution. This is to ensure that a reconditioned product functions just as well as an original one.
Get your ACC remanufactured by ACTRONICS
Would you like to recondition a defective ACC control panel? Through our website you can quickly and easily request a remanufacture. ACtronics has a wide range of ACC modules of the famous brands and models such as: Saab 9-3 1998-2003, Renault Laguna and Peugeot 308. Do you want to remanufacture a product that is not found on the website? Please contact us to discuss the possibilities.