Part not found?
Request a quote and we will look for a suitable remanufacturing solution together with you.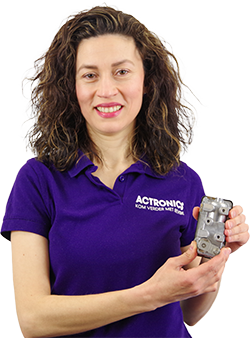 Question about a turbo actuator?
Let me help you!
Problems with the turbo pressure in the engine? Then there may be problems with the turbo actuator. An actuator consists of two types of components: a mechanic and electronic part that can cause defects. ACtronics offers the possibility to have an actuator remanufactured instead of repaired.
What is an actuator
An actuator controls the control of the turbo pressure in the engine. Without any form of pressure control, the turbo would continue to blow in the engine without any air. The actuator ensures that the turbo pressure is adapted to the circumstances, in order for the turbo and engine to perform optimally.
Frequent actuator errors
A defective turbo actuator usually doesn't cause engine damage, but it does reduce power. It may be that the Turbo is partially or completely failing or the vehicle has no power. The actuator consists of a number of components that can be defective such as electric motor, plastic worm wheel and a printed circuit boards. All these parts have various weak spots. If these components fail, ACtronics can replace them.
Test and remanufacture of an turbo actuator
The in-house developed test set-up of ACtronics offers the possibility to simulate and test the actuator. It is not only checked whether the actuator runs smoothly, but also whether the electronics work optimally. At the end of the remanufacure process an extensive final test is done to ensure that the remanufactured product works just as well as an original one.
Get the turbo actuator remanufactured by ACtronics
Do you want to have a defective actuator remanufactured? You can submit a remanufacture request quickly and easily via our website. ACtronics has an extensive range of actuator modules from well-known brands such as: Hella Turbo Actuator (Garrett turbo). Do you want to have a product remanufactured that cannot be found on the website? Please contact us to discuss the possibilities.