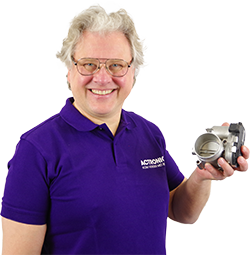 Question about a throttle body?
Let me help you!
Modern throttle bodies are a typical example of mechatronics: a component that contains both mechanical and electronic parts. Remanufacturing these types of components requires a slightly different approach than with purely electronic components. ACtronics offers the possibility to have a throttle body remanufactured instead of repaired.
What is a throttle body?
The cylinders in the engine need air and fuel to function. A throttle valve is available to regulate the air supply to the engine. A throttle valve regulates the amount of air entering the engine. The throttle valve that is part of the throttle body is connected to the accelerator pedal.
Mechanical or electronics defects
During the remanufacture of throttle bodies, the separation is always made between remanufacturing or replacing the mechanical parts and solving the electronic defects. If possible, better components are always chosen. In some cases, components are even completely redesigned to make the throttle body more reliable than the original.
Throttle body wear by sliding contacts
The throttle body of, among others, Magneti Marelli, which was mainly used in Volvo cars, uses sliding contacts. Since that apparently causes the necessary problems (wear and tear), ACtronics has designed a completely new component that works completely contactless. The result: never any electronic problems.
Get the throttle body remanufactured by ACtronics?
Do you want to have a defective throttle body remanufactured? You can submit a revision request quickly and easily via our website. ACtronics has an extensive range of actuator modules from well-known brands such as: VAG - ETV (036.62M) & Bosch DV-E (2701). Do you want to have a product remanufactured that cannot be found on the website? Please contact us to discuss the possibilities.