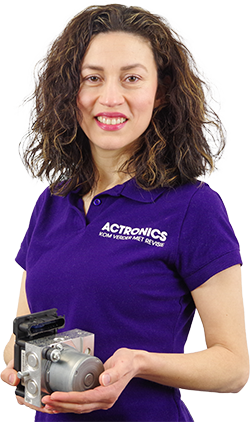 Question about an ABS unit?
Let me help you!
If the ABS light is illuminated in the car it indicates there are problems with the anti-lock braking system. There can be various causes that result in a fault, from a broken control unit to a broken ABS sensor. ACtronics provides an ABS unit remanufacture service, saving the need for repairs.
What is an ABS-system?
The anti-lock braking system (ABS) ensures that the brakes do not lock up during braking. The electronic system ensures that braking is applied in a pumping manner and the wheels cannot lock. An ABS module consists of various components, including a hydraulic pump, sensors, electronic control unit (ECU) and pump motor. As is the case with other ECUs, ABS ECUs are divided into two groups - ECUs with a conventional printed circuit board (PCB) and ECUs with a hybrid PCB.
Remanufacture of an ABS pump and other components
If you require an ABS pump or pressure sensor repair, we recommend the entire ABS unit is remanufactured and not only certain parts. Experience has shown us that often components on the hybrid control unit (HCU) and the pump motors can also become defective and therefore we provide a comprehensive remanufacture of the entire ABS unit.
Testing and repair of the ABS-modules
ACtronics has developed its own test set-up to test ABS units. The Vision 6 test platform is used for unit testing. This system can fully simulate the operation in a car. In case of defects, a temporary solution (connect/gluing) is not chosen, but instead a more durable solution is carried out when remanufacturing an ABS unit, ensuring that a remanufactured product performs just as well as an original one.
ABS unit remanufacture by ACtronics
At ACtronics we offer an ABS unit remanufacture service that can be arranged via our website. We have an extensive range of ABS unit models from well-known brands such as ATE MK60 Hydraulic unit, ATE MK70 and ATE MK20. If you can't find the product that you need to be remanufactured on our website, please contact us to discuss your options.
View the defects of the most frequently remanufactured ABS units here