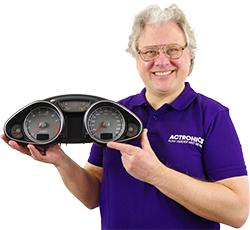 Question about an instrument cluster?
Let me help you!
A dashboard consists of the known odometer counters and other components. In addition to the well-known electronic components, many non-electronic components also fail. Think of gears, indicators, windows and plastic housings. All these components can ensure that a dashboard does not work properly anymore. ACtronics offers the possibility to have an instrument panel remanufactured instead of repaired.
Frequent problems of intstrument clusters
Many instrument clusters have multiple design faults, manufacturing faults or weak components that quickly fail. Apart from defective processors, we also regularly see inferior stepper motors and quickly defective displays pass by. These components are often replaced by a higher quality one. A remanufactured instrument cluster is therefore often more reliable than the original.
Testing instrument clusters and other components
ACtronics has developed its own test set-up to test instrument clusters with counters and displays. The testing of an instrument cluster takes place through a fully automatic script that can control multiple functions simultaneously. In this way it is visible at a glance which defects an instrument panel has.
Get the instrument cluster remanufactured by ACtronics?
Do you want to have a defective instrument cluster remanufactured? You can submit a remanufacture request quickly and easily via our website. ACtronics has an extensive range of instrument clusters from well-known brands and models such as: Peugeot 206 1998-2008, Ford C-max 2003-2010 and Fiat Ducato 3 2007-2014. Do you want to have a product remanufactured that cannot be found on the website? Please contact us to discuss the possibilities.
View the defects of the most frequently remanufactured instrument clusters here