Instrument Cluster Repair
Instrument Clusters can be one of the most complex and frustrating repair jobs on any vehicle, which is why we make it quick and easy to get top-quality remanufacturing for a fraction of the replacement price. Check out our complete list of Instrument Cluster products below and start your bespoke order today.
Are you an individual looking for an instrument cluster repair or remanufacture? Explore our list of trusted Service Points and find one of our expert partners near you.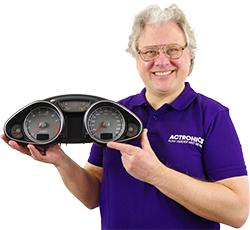 Have a question about your instrument cluster repair?
Speak to an expert today!
An instrument cluster consists of gauges, displays and other important driver information. In addition to the well-known electronic components, many non-electronic components can also fail, such as gears, indicators, and plastic housings.
If any of these components fail an instrument cluster repair will be required to ensure the vehicle stays road-worthy. Without much-need remanufacturing, a broken instrument cluster can cause frustration for the driver and potential safety issues – impacting the long-term viability of the vehicle. Our unique instrument cluster repair and remanufacture service guarantees a like-new part, at 80% of the cost of replacement – getting drivers back on the road faster!
Frequent problems of instrument clusters
Many instrument clusters have multiple design faults, manufacturing faults or weak components that can fail quickly. As well as defective processors, we also regularly see inferior stepper motors and defective displays causing issues for our customers.
Rather than replacing these wholesale, we remanufacture the parts in line with our instrument cluster repair, ensuring the end user gets the same quality as a new system, without recurring faults, at a fraction of the price.
Our instrument cluster testing processes
ACtronics has developed its own test set-up for cluster repairs. The testing of an instrument cluster takes place through a fully automatic script that can control multiple functions simultaneously, including gauges and displays. This way, it is visible at a glance which defects an instrument panel has and what actions need to be done to fix the problem.
Get your Instrument Cluster Remanufactured by ACtronics
Do you want to have a faulty instrument cluster remanufactured? You can submit a remanufacture request quickly and easily via our website. ACtronics has an extensive range of instrument clusters from well-known brands and models such as: Peugeot 206 1998-2008, Ford C-max 2003-2010 and Fiat Ducato 3 2007-2014.
If you can't find the precise part or system you're looking for, be sure to reach out to one of our experts.
Discover the Top 5 most common defects leading to an instrument cluster repair in our latest blog.