Does the car not want to start or does not the car react when the accelerator pedal is pressed? Then there may be problems with the ECU. The ECU/ECM uses various components such as connectors with a printed circuit board and is therefore also sensitive to defects and malfunctions. ACtronics offers the possibility to have an ECU remanufactured instead of repairing it.
Haven't found what you are looking for?
Ask us for a quotation.
Or call us: 01206 849920
Get quote
No results found
Reset filter
What is an ECU/ECM module
How does an ECU work? ECU (Electronic Control Unit) also known as engine management computers that manages and controls engine functions. You can think of gas valves, turbo pressure and other components. The ECU unit is the heart of the car that ensures that the car works optimally. The ECU is connected to other sensors and chips for the car to work properly. In the newer models of cars the ECU also has other tasks such as controlling the air conditioning, cruise control and the alarm.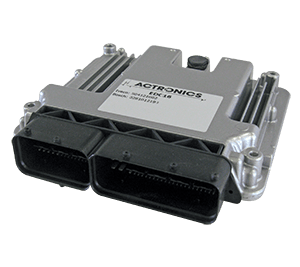 Get the ECU remanufactured instead of repaired
On the basis ECUs can be divided into two groups: conventional ECUs and hybrid ECUs. The remanufacture of conventional ECUs takes place at our soldering department. We use original new components. Think of semiconductors, chips and sensors. When possible, an alternative is chosen that functions even more reliably than OEM. With a hybrid ECU, the focus is mainly on renewing hybrid connections (bonds). The ceramic printed circuit boards on which these connections are attached require very special equipment (ultrasonic bonding) that is able to carry out the renewal process fully automatically.
Testing & Repair the ECU/ECM
The Vision6 test platform is used for testing ECUs. This system is able to fully simulate the operation in a car. The platform is regularly provided with updates, so that the latest technologies can be successfully tested. Communication with the latest CAN, LIN and J1850 network buses is therefore no problem.
Get the ECU-module remanufactured by ACtronics?
Do you want to have a defective ECU repaired? Through our website you can quickly and easily have electronic parts remanufactured. ACtronics has an extensive range of ECUs from well-known brands and models such as: Bosch Mev 17.4, Bosch EDC16U1 and Valeo J34P. Do you want to have a product repaired that cannot be found on the website? Please contact us to discuss the possibilities.
View the defects of the most frequently remanufactured ECUs here