ACTRONICS at Automechanika & Goodwood Festival of Speed
Making an impact with Edd China at Automechanika & Goodwood Festival of Speed
This year, ACTRONICS Ltd was grateful to be exhibiting at two of the most significant events in the automotive enthusiast's calendar: Automechanika 2023 and the world-renowned Goodwood Festival of Speed.
Automechanika, held at the National Exhibition Centre in Birmingham between 6-8 June 2023, is the event for celebrating automotive excellence. Businesses, hobbyists, and exhibitors from all over the country descend on the halls to share their knowledge, introduce innovations, and connect with customers – and we were lucky enough to do all three!
Our amazing team took up residence in Hall 19, Stand O120, right in the heart of a busy intersection, allowing us to catch the attention and engage curious visitors whether they were familiar with ACTRONICS and the benefits of remanufacturing or not. Across the three days, the stand was hosted by several members of our team – including Thijs Jasink, our Managing Director, and Dean Bartram, our Operations Manager – meaning everyone had access to the experts. We thoroughly enjoyed chatting with visitors and discussing the future of automotive repair – specifically how remanufacturing over repair/replace is saving businesses £1000s whilst being better for the environment.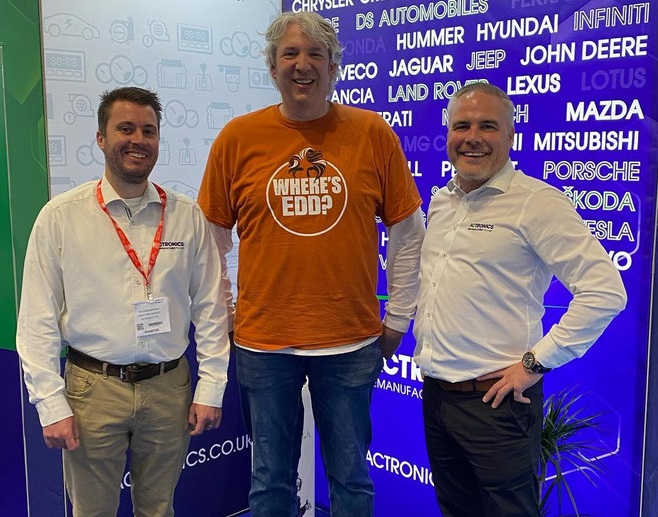 In a very different vein, the iconic Goodwood Festival of Speed, held between 13-16 July 2023, provided the perfect stage for ACTRONICS to demonstrate the power and precision of our innovative technologies to our end customers. Surrounded by legendary brands and passionate automotive enthusiasts, our participation in this thrilling event was an exhilarating experience. From the heart-pounding hill climb to the mesmerising displays of automotive prowess, we shared our passion for revolutionising sustainability in the remanufacturing process with the biggest auto buffs around… and even the persistent wind and rain couldn't dampen our spirits!
But aside from our knowledge and expertise, we also brought a secret weapon with us to both events. One we were sure would make an even bigger splash than the Great British Summer…
Enter Edd China
We were incredibly privileged to be joined at both Automechanika 2023 and Goodwood Festival of Speed by the former Wheeler Dealer himself, Edd China.
Edd is an expert in all things automotive – having hosted one of the country's best-loved car shows and now runs his own YouTube channel with nearly 1 million subscribers. He joined ACTRONICS Ltd at both events to highlight the benefits of remanufacturing to the masses, helping customers, mechanics, and partners better understand how using ACTRONICS could save them time and money on electronic component repairs.
Edd's undoubted star power was a massive draw for audiences across Automechanika and Goodwood, with queues forming for selfies and discussions about recent repair nightmares – the perfect opportunity for our ACTRONICS representatives to offer a better, more sustainable solution!
In summary
Our presence at these great events, along with our partnership with Edd China, were amazing successes for ACTRONICS Ltd. It made a big difference in being able to meet customers in person, offer on-the-spot solutions, and engage with like-minded businesses on how we can support each other's growth for the future. We can't wait to attend more events in 2024 and spread the word about the power of remanufacturing!
If you'd like to see more pictures from Automechanika and Goodwood Festival of Speed, head over to our Instagram page: https://www.instagram.com/actronics/
Or if you'd like to place an order with us – be it ECU Repair, Instrument Cluster Repair, or ABS Module repair – be sure to get in touch today!