The 10 best looking instrument clusters of this moment according to ACtronics
Every year thousands of instrument clusters pass through our hands for remanufacture. One is round, the next minimalistic and yet another can be completely personalized. Although there is no discussion about taste, we did a little research within ACtronics: "What do you think is the best looking instrument cluster that is currently made?" We have put the answers in a little tally, in no particular order!
McLaren 720S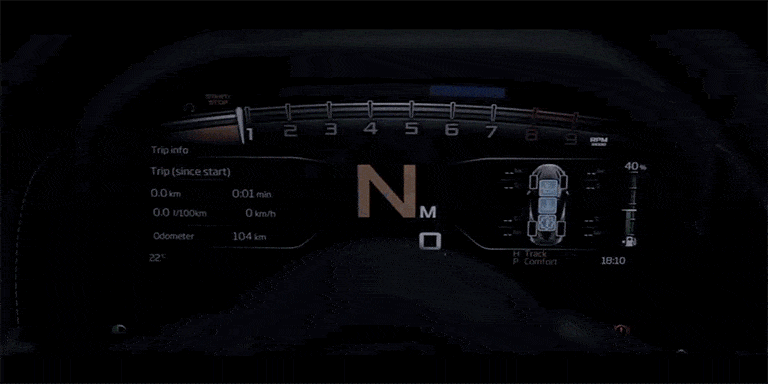 Really, the person who came up with this gets a standing ovation from us: a dashboard that can physically rotate and has its own interface on the side! These kinds of gadgets (or quirks, whatever you want to call them) make you fall in love with a car, right? These elements ensure that you will become a car fanatic at a young age and make you feel like you are in a supercar. Anyway ... We may be going a bit too far, but you will understand the idea. At least, we hope so.
Source image: Road & Track
Ford GT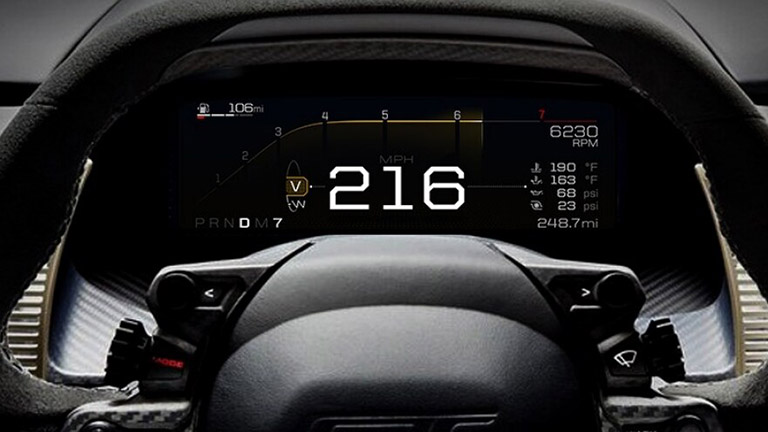 One of the most remarkable instrument clusters on this list has to be the Ford GT. Although it is very different from the "standard" in its simplicity, no one will argue it does not show enough information. And that is precisely the strength of this cluster. Thanks to its "racing genes", the cluster only shows the essentials and you won't miss anything. This in combination with its super sleek design and expertly selected font, it certainly is an instrument cluster that should not be omitted in this list. Just one little point that might start a discussion: is the display of this instrument cluster a little too "game console"-like?
Source image: The Verge
Audi A5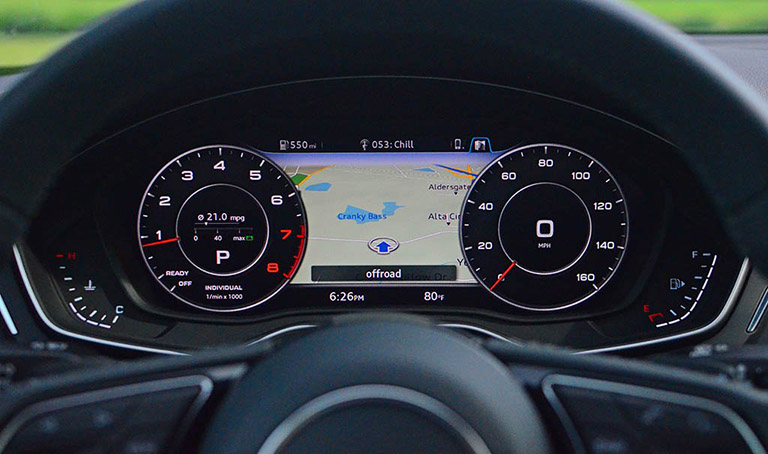 When we say that the "Virtual Cockpit" system has upgraded the Audi instrument cluster, it would really just be an understatement. The clusters that Audi made in recent years were neither bad nor ugly, but the latest generation of instrument clusters, in our opinion, better convey the Audi feeling. (The Audi R8 instrument cluster of course being a big exception.) One thing is certain though, if you get lost in this car, it is more likely your fault than the cars!
Source image: Automotive Addicts
Porsche Taycan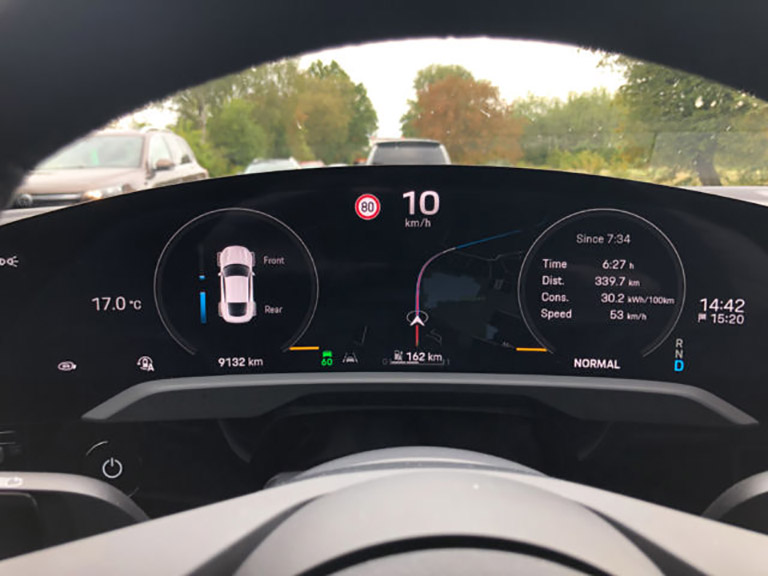 If you take a look at this instrument cluster, you will notice the reference to the traditional Porsche clusters. These were characterized by 5 large - almost separate circles - on which the information was displayed. The dashboard in the Taycan is actually nothing more than a digital version of it, which is completely up-to-date in terms of design. The most important information is clustered in the three circles and the "somewhat less important" information can be seen on the side. Very well done!
Source image: Ars Technica
Lexus LC500
When we asked the question internally, which instrument cluster could not be missing on this list, this was one of the frequently mentioned models. And it is easy to see why! This cluster is of course a big homage to the Lexus LFA, which, like the LC500, uses a large circle in which the information is displayed. The attention to detail is done indescribably well. For example, look at the subtle effects that the display shows when you switch between the different driving modes. Phenomenal!
Source image: CarBuyer Singapore
Ferrari Roma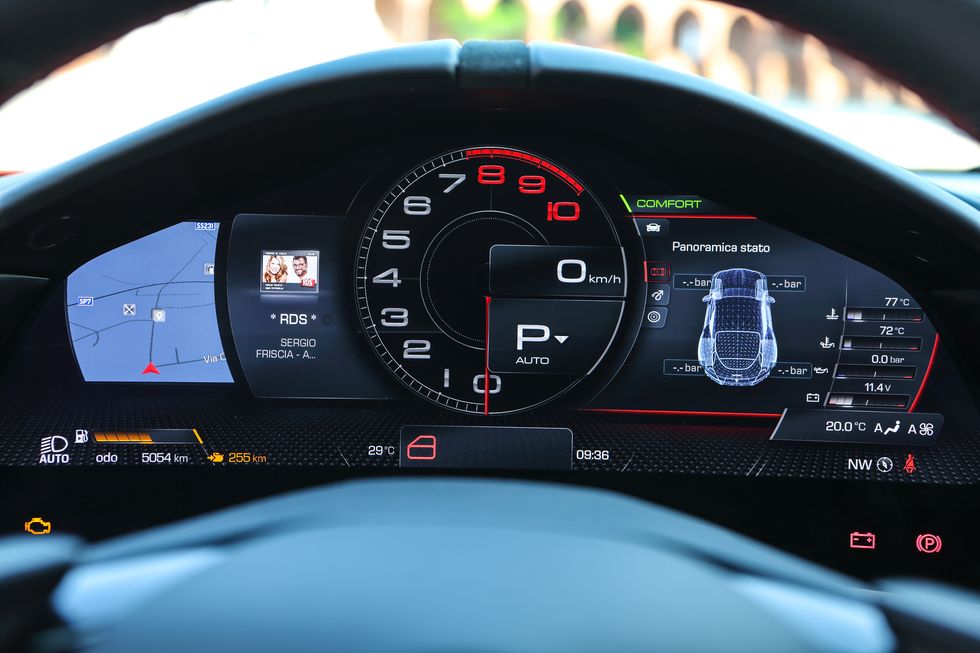 When you think of a Ferrari instrument cluster, you probably think straight away of the large, often brightly coloured rev counter that takes centre stage. As Ferrari stated when announcing this car, it should not only go very fast on a bendy track, but it should be able to stroll on a cobblestone road in an old and characteristic village as well. Mix these and you get the Ferrari Roma, the ultimate La Dolce Vita car from Ferrari's current range. Something they have done very well is to extend this theme to the instrument cluster. Yes, even now the rev counter is central, just the way this is done is a lot more subtle than, for example, the 488. Bellissimo!
Source image: CarIndigo
Aston Martin Vantage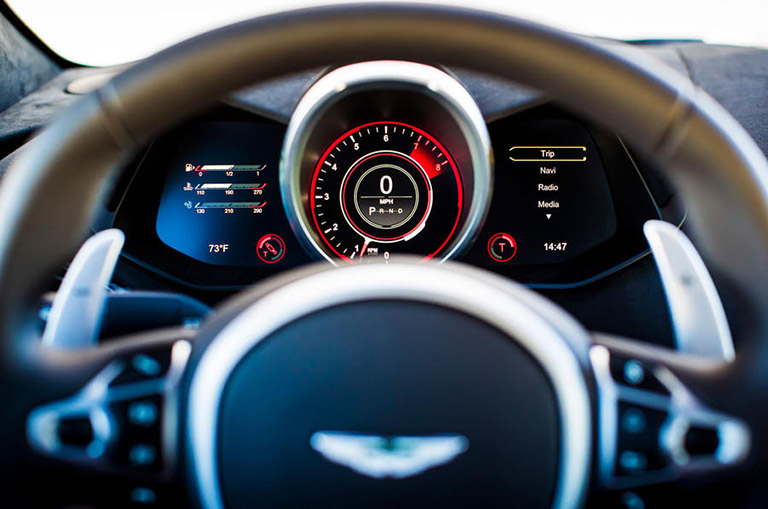 Skipping the manufacturers of the first real digital instrument cluster in this list is like a menu without crème brûlée. It shouldn't really be allowed. With the Lagonda, Aston Martin was the first car manufacturer to venture into the digital dashboard in 1976. Though the instrument cluster of the Aston Martin Vantage is a far cry from that! It is actually kind of combination of the Lexus LC500 and Ferrari Roma instrument cluster, topped with an Aston Martin cherry. Good job!
Source image: Autocar
Bugatti Chiron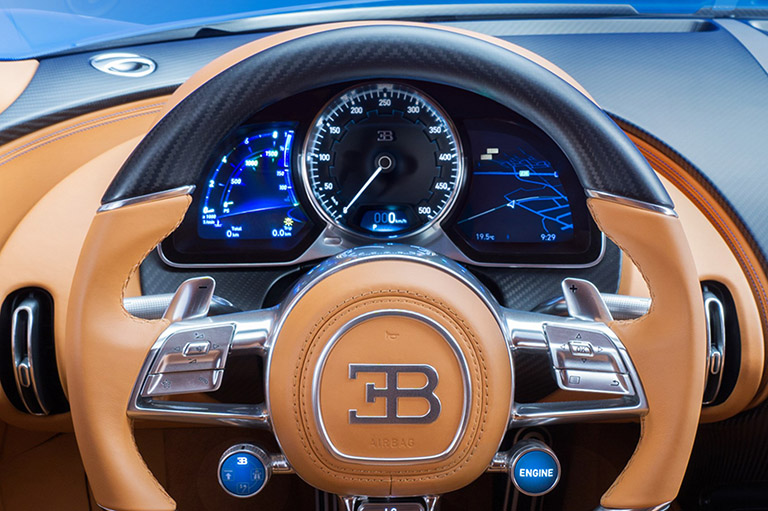 The Chiron costs almost 3 million euros, so you should expect something for that money, right?! Well, besides a W16 engine with four turbos that delivers 1500hp and 1600Nm of torque that stops at a top speed of 420km / h, the Chiron also offers you a fantastic view from the driver's seat. From there you look at a particularly good looking instrument cluster that is actually quite traditional in its design. With those kind of absurd top speeds you really only need a box with the speed, but nothing could be further from the truth. In some crazy way, however, this works. Maybe this has something to do with the brown coloured leather steering wheel?
Source image: CAR Magazine
BMW 8 series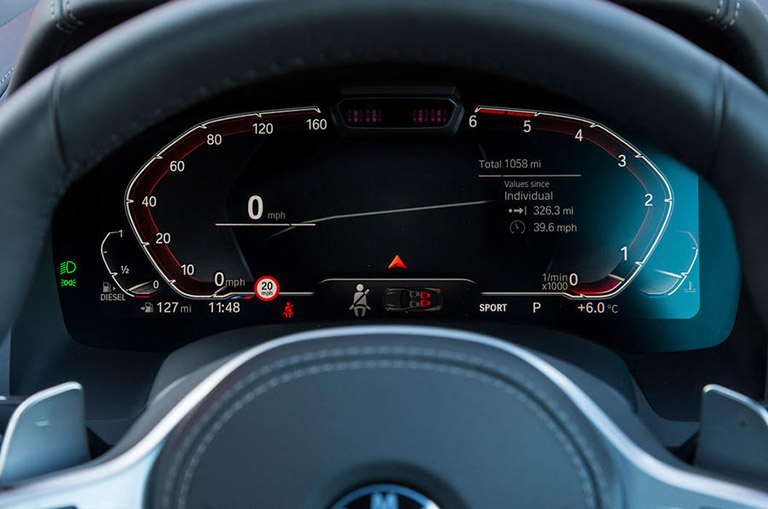 They may have entered a bit late, but BMW has also gone all out on the digital instrument cluster tour. And what a beautifully designed cluster have they put in their 8 series! The navigation is central and the rev counter and speedometer can be found as a frame of the display. A particularly smart way to keep room for other information like the range. Maybe not as unique or controversial as some of the other instrument clusters that we have discussed before, but that is actually its strength.
Source image: Autocar
Pagani Huayra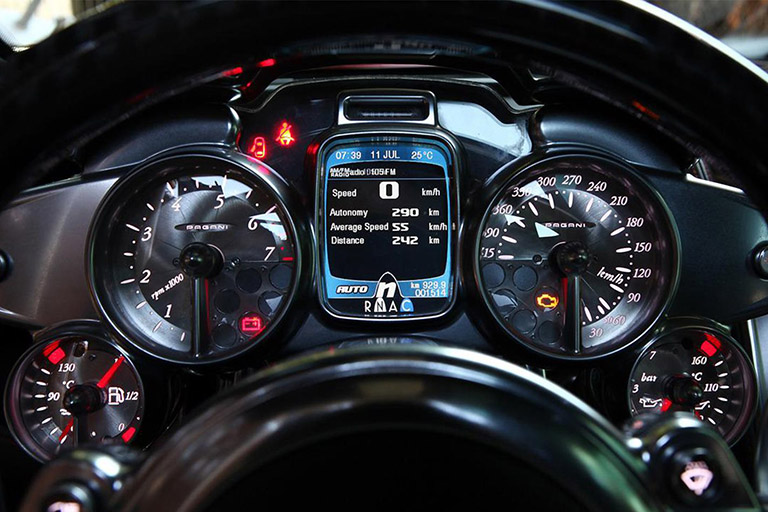 Remember when we said at the beginning of this article that taste is unquestionable? Well, the Pagani Huayra's instrument cluster is perhaps the ultimate example of this. Either you love it and think it fits the car completely, or you will loath it's over the top and kitsch design. And we understand that very well, because this instrument cluster has also caused the necessary discussions amongst our colleagues. What is your opinion?
Source image: WhichCar