Instrument Clusters

Ford Kuga 2008-2012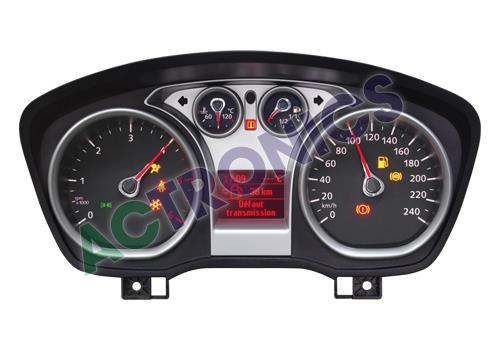 Common problems
Is your complaint not listed? Please contact our customer service
How we work
We remanufacture the part you send. Prices are exclusive of VAT and possible shipping costs. Offer only applies to garages and dealers and not to
individuals
.
Let's repair a Ford Kuga 2008-2012 instrument cluster!
This instrument panel can be found in the Ford Kuga from the years 2008 to 2012. The instrument panels of this type can have several possible faults, such as the inability to start the car or the partial or complete failure of the cluster. These are not the only problems that will occur with this type of cluster, you can read more about that below!
Common faults and fault codes
Other possible faults that can occur with this instrument panel are pointers in the speedometer that remain at "0", a display that will no longer work, or the indicators that randomly flash. It is also possible that CAN bus errors are due to vibrations that cause loose connections on the circuit board. In many cases, U1900 fault code / Uxxx CAN bus codes will show. In another article about Ford Focus instrument clusters, we highlighted the story behind the U1900 / CAN-Bus error code:
Remanufacturing solution for the instrument cluster
The remanufacturing process at ACtronics entails a number of steps to solve the fault of the part. Before a part is remanufactured, an entry test will be performed to see what faults are found. If the fault can be repaired, the part will be remanufactured by one of our specialists! After the remanufacture, we will perform a so-called end-of-line test to see if the part is working correctly again!
Repair a Ford Kuga cluster or other parts?
Do you want to have an instrument panel or other part remanufactured by ACtronics? You can submit a remanufacture order form quickly and easily on our website. ACtronics offers revision solutions for various clusters such as for Ford Focus II 2005-2010 or Ford C-Max 2003-2010.
Do you want to have a product remanufactured that is not available on the website? Please contact us to discuss the possibilities.