The 9 strangest instrument clusters from our remanufacture range
Now if we were to give you a pen and paper and ask you to draw an instrument cluster you would probably draw an oval/rectangular part with the rev counter and speedometer in full on the side. In the middle a little tank gauge, coolant gauge and possibly a center display, that is not so strange. Most of the instrument clusters look something like this traditionally. Although there is nothing wrong with 'standard', some manufacturers can not resist doing it all just a little differently. We dived into our remanufactured range and picked out the most controversial and exotic instrument clusters!
Citroen C8
At first glance, the instrument cluster doesn't even look that crazy and that might be a very big compliment. This instrument cluster, which can be found in the Citroën C8, will celebrate its 20th anniversary in 2022. Today, large screens and large displays are indispensable, but 20 years ago this was truly revolutionary. Lancia's MPV (the Phedra) and the Fiat Ulysse also used the same instrument cluster.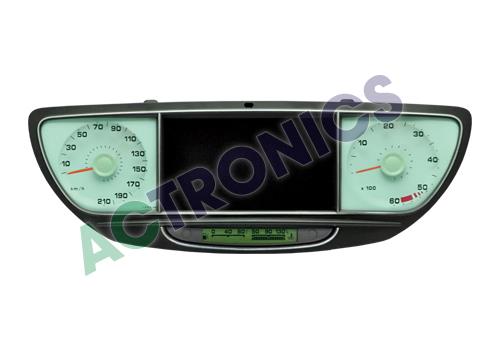 Citroën C8 2002-2014 (display in the middle)
Instrument cluster
Please register to view pricing information.
Fiat Multipla
Some say it's the ugliest car ever made. We won't burn ourselves with that opinion, but the instrument cluster that is used in this car is anything but standard. You almost wonder why Fiat has gone to all that trouble to get the speedometer, tachometer and fuel gauge in such a small round shape. After all, the dashboard is wide enough, because there are not two but three seats in the front of the car. Anyway, as we said: there is no arguing about taste, but this part is certainly looking special!
Smart ForFour
It could just be us, but every time we see this instrument cluster, we feel like the part is upside down. And if you turn it 180 degrees, the part looks like binoculars from a distance with a little imagination.
Chevrolet Spark
Either way, Chevrolet's designers must have been in a good mood when they started working on the Spark's instrument cluster. Everything is slightly different from standard. The speedometer is relatively large and the grey housing is not everyday. It may therefore seem a bit plasticy.
Nissan Primera
Big bigger Biggest. This instrument cluster from the Nissan Primera (facelift) is one of the largest instrument clusters in our remanufactured range. A change in the interior design of the Nissan Primera meant that the part had to be remanufactured. Not only did the housing become a lot bigger, but the instruments themselves also underwent a complete transformation. All in all, an expensive adjustment for Nissan.
Renault Espace 3
If we are talking about big, then the Renault Espace dashboard should of course not be missing. However, where Nissan keeps the 'traditional' round dials intact, Renault is taking a digital approach. Both the third and fourth generation Espace have the same type of instrument cluster where speed is central. The fourth generation Espace in particular is notorious for various problems.
Fiat Ulysse
It turns out that MPVs do have a certain reputation when it comes to special instrument clusters. We came across the Fiat Multipla earlier in this list, but this dashboard that was also used in the Ulysse is also worth mentioning. Thanks to the large gray dials, this instrument cluster is more than noticeable.
Iveco Stralis
A color combination that we have come across many times in this list! However, this instrument cluster is not from a car, but from the Iveco Stralis. If the grey and blue weren't striking enough, the tachometer offers an even wider color range. Depending on the revs you drive, the tachometer follows a green/yellow/red line.
Renault Modus
The Renault Modus instrument cluster is the last on this list. Although the layout of this instrument cluster may not even look that crazy, it is nevertheless one of a kind. We have no other instrument cluster in the range that uses the same layout.